About African American Chronicles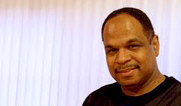 In late August, 1979, my twin brother, Darnell and I arrived at Penn State's University Park campus to begin our college education. While fairly confident in my academic abilities, arriving at college as part of the then Black Scholars program, there were nagging concerns of, can I handle this and do I truly belong here?
While proud of my academic and social accomplishments at Penn State, I do wonder what could have been achieved if I had been able to build on the courage, and political successes of groups like the Douglass Association (1967), or been inspired by the determination of Mildred Settle Bunton (1932). Most of us had heard of neither. More importantly, I wonder if this knowledge would have made a difference to the many African American students who never felt they belonged, and eventually left Penn State prior to graduation.
In November, 2007, after registering to attend the 2008 Black Alumni Reunion, I was somewhat surprised to discover there was no documented comprehensive account of the African American experience at Penn State. I believe that sharing more than 110 years of the rich contributions, struggles, and successes of African American Penn Staters could help inspire and empower students, faculty and staff, and reconnect African American alumni to the University. I therefore undertook the process of compiling a brief historical timeline. That "brief" timeline, with the encouragement and help of Penn State staff, alumni, family, and friends became the "Penn State University African American Chronicles." While the document was distributed to those who attended the April 2008 Black Alumni Reunion, an informal website was set up to make the information more widely available.
The project gained momentum when the Office of Educational Equity, the Africana Research Center, the Penn State Alumni Association, the Department of African and African American Studies, Penn State Public Broadcasting, the Penn State Archives, the Black Alumni Reunion Committee, and others enthusiastically contributed resources and assistance. This support greatly enhanced, enriched, and expanded upon the initial efforts, and ultimately led to the creation of this extraordinary website.
Despite our relatively small numbers, it is clear that African Americans have been an important part of the Penn State fabric. Accomplishments by many African Americans have helped to shape Penn State's national reputation as a world class institute of learning.
Upon gaining a better understanding of our legacy at the University, the growing number of African American students, alumni, faculty and staff can say with even more confidence that…
WE ARE … PENN STATE!
Darryl B. Daisey - Class of 1983
A Living History
Note: This website is a "work-in-progress." Every effort has been made to create an accurate depiction of known relevant historical events, people and places. It is recognized that some errors and omissions are probable. If you identify such an error or omission, please e-mail the information to daisey158@comcast.net for consideration and verification.
Sources
Penn State Archives, Daily Collegian Archives, Penn Stater Magazine, Penn State Office of Vice Provost for Educational Equity, Penn State Alumni Association, Penn State African American Alumni Interest Group, Penn State Africana Research Center, Penn State Department of African and African American Studies, Penn State Department of Public Information, Penn State Libraries, The Penn State Fact Book, Penn State Dickinson School of Law, Paul Robeson Cultural Center, Mildred Bunton-Calvin Waller Fellows Handbook, Diana Kenepp, Intercollegiate Athletics Diversity Council, Lou Prato, "The Black and White Behind the Blue and White: A History of Black Protests at Penn State" by Robin Hoecker, American Legacy Magazine, BigTen.cstv.com, Astronautix.com, Voices of Central Pennsylvania, Center for Teaching & Learning, Rita (Frealing) Shultz, Esq., Lorraine Hutchings Oliver, various organization websites, and personal interviews.
Photo Credits
Penn State Archives, Penn State Department of Public Information, Daily Collegian, LaVie Yearbook, Lorraine Hutchings Photo by George Oliver, Barack Obama Photo by Andy Colwell (Penn State Department of Public Information), Ronald L. Mallett, Harold E. Cheatham, Frederick B. Phillips
Website & Video Credits
Penn State Public Broadcasting: Cheraine Stanford, Lindsey Whissel, Courtney Herring, Candace Worthen, Jeff Hughes, Steve Nelson, Thomas Wilson, Emily Wiley, Mark Stitzer